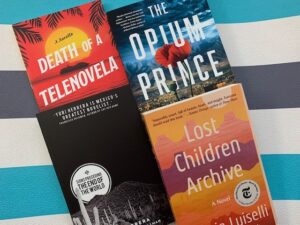 I'm excited to show you some recent book arrivals. Two of these are from my purchase during Independent Bookstore Day and the other two are ARCs from Soho Crime.
Death of a Telenovela Star by Teresa Dovalpage. A cruise, a soap opera star and a handsome actor you would think this is going to be all romance but then a murder takes place. As someone who does watch telenovelas this should be fun. In my defense, I watch telenovelas because my mom enjoys them. Ok, sometimes I too enjoy the cheesy, over the top drama.
The Opium Prince by Jasmine Aimaq. Born to an American mother and a late Afghan war hero-turned-magnate, Daniel Sajadi has spent his life navigating a complex identity. After years in Los Angeles, he is returning home to Kabul for the first time as the head of a US foreign aid agency dedicated to staunching the growth of the poppy fields in Fever Valley that feed the world's opiate epidemic.
My next two books were purchases from Bookshop.org. These are not necessarily recently published books but they are authors I've been meaning to read.
The Lost Children Archive by Valeria Luiselli. An artist couple set out with their two children on a road trip from New York to Arizona in the heat of summer. As the family travels west, the bonds between them begin to fray: a fracture is growing between the parents, one the children can almost feel beneath their feet.
Signs Preceding the End of the World by Yuri Herrera, Translated by Lisa Dillman. Yuri Herrera does not simply write about the border between Mexico and the United States and those who cross it. He explores the crossings and translations people make in their minds and language as they move from one country to another, especially when there's no going back.
Let me know if you've heard of these or if you've read any of these. Would love to hear your thoughts. And, have you received any new books in your mailbox?