I'm so glad you guys are enjoying the little meme I posted yesterday. I can't wait to see what some of you have come up with. Today has been a long day so I didn't get a chance to blog visit but I plan to catch up soon. I'm going to be in a seminar all day tomorrow and part of me wonders if I can sneak in a book too – haha.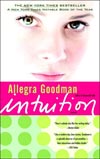 I did forget to tell you though about the book I started the other day and which seems to be getting me out of my slump after the four books I had to give up on recently. I started Intuition by Allegra Goodman. The story takes place at a prestigious research lab in Massachusetts where two scientists and their postdoctoral fellows have come upon some revolutionary findings which could be the game changer in cancer treatment.
I love the way that there doesn't seem to be just one central character but it feels more like a close examination of a family. Each character has good points about them and flaws too and like with a good mystery, I find myself wanting to find out how this is all going to play out in the end. I'm about half way and see a lot of trouble brewing for the characters.
There's also a chapter which goes more in detail about the mice used in research and while I don't think there's a hidden agenda, because it's matter of fact and I'm sure probably very true of what happens in labs, it certainly makes you think about the process. How sad for the poor mice that have to be sacrificed but then how else to do research that could be life-saving? Very thought-provoking.
I've had this book sitting on my shelf for quite a while so I'm glad I finally picked it up. I'll let you know how it turns out. Have you read this? What did you think?
In the meantime, are we ready for the weekend? Yes!! We have a tax-free weekend and I may just treat myself to some new shoes or some other pretty thing. As usual, I'm going to go to my gentle yoga classes to cool down and we hope to meet up with friends for dinner on Saturday. Have a happy weekend and hope you are reading a good book.