I hope everyone had a great weekend. I did… Just a bit tired from all the running around and hanging out with my cousin but it was a lot of fun. So, I am very behind on my blog reading, emails and such but I promise to catch up soon.
For now, I'll leave you with a picture of my latest bookbinding creation. This is a book made with the secret Belgian binding technique.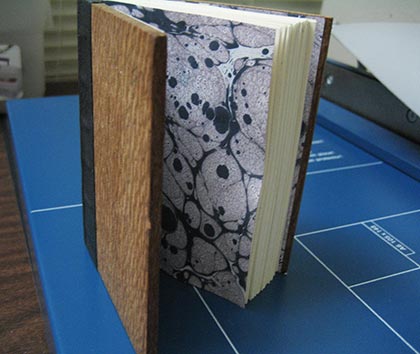 You can't really see the binding because I added navy leather to cover it but since the leather is pressed on the effect is one of a raised look on the spine from the individual threads, making it quite nice and decorative. I am working on a new book and will leave the binding exposed so you can see it. The book measures 4 1/4 by 3 1/4 so it's perfect to stash away in a pocket.
Aside from learning this binding, the good thing about working on this book was that I got to use a drill to make the holes in the wood I used for the panels. That is something I never thought I would ever do (I'm such a girl!). I also had to work with a paring machine again to thin out my leather. Finally, I used marbled paper for the end papers.
I need to take better pictures of this and add it to my finished book projects page but I'll save that for another day. For now, it's time I relaxed with some good books.