Aside from the new books I added to the shelves this weekend, I've also been making room for some books that have come to me via friends and ARCs.
First, The Godmother by Carrie Adams which Lisa passed on to me. The book has a delightful cover and it sounds like a fun, fluffy story so I am looking forward to it. Thank you Lisa.
My dear friend Christine surprised me with a lovely edition of The Hunchback of Notre Dame by Victor Hugo. What makes this book super special is that she got it for me when she was on a trip to Paris recently and it came from the famous Shakespeare and Company bookstore. Don't you just love the little stamp they put in the book? And, by the way, if you want to see some gorgeous photography of France (or elsewhere for that matter) check out Christine's new photography site, Lightwash Studio. It is stunning!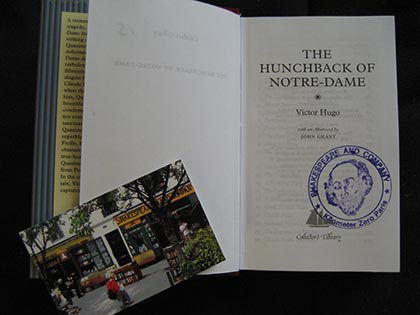 On the ARC front, I've received Gifts of War by Mackenzie Ford. This is part of the BookBrowse First Impressions program. From Sourcebooks, I got My Cousin Rachel by Daphne DuMaurier. I've been wanting to read something by else by Daphne DuMaurier for so long. And, finally for an upcoming book blog tour I got Hotel on the Corner of Bitter and Sweet by Jamie Ford, which had been on my radar as soon as I'd heard about it.
I'm so excited about all of these books. Now, I guess I better get back to my current books so I can pick up something else to read soon.