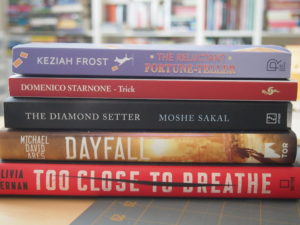 I've had a few interesting books arrive recently and wanted to post about them and see if you've heard of these too.
Too Close to Breathe by Olivia Kiernan. From Kirkus Reviews: "A Dublin detective fresh off a case that nearly killed her delves into what looks like a suicide but soon blossoms into a web of murder." I love a detective who is also battling her own demons while cracking a case. I actually started this one last night so I'll keep you posted on how it goes!
Dayfall by Michael David Ares. From the book blurb: "In the near future, patches of the northern hemisphere have been shrouded in years of darkness from a nuclear winter, and the water level has risen in the North Atlantic. The island of Manhattan has lost its outer edges to flooding and is now ringed by a large seawall." I have not read any dystopian fiction in a while so I'm glad I have this one for when the mood strikes.
The Diamond Setter by Moshe Sakal. From Kirkus Reviews: "A kaleidoscopic journey into the Middle East of the present and the not-so-distant past, told through the overlapping stories of characters whose intertwining lives revolve around the fate of a rare and storied diamond." This is a the first novel translated into English by this writer so I'm excited to check it out.
Trick by Domenico Starnone. From Publishers Weekly: "Starnone's astute and emotionally precise novel follows famed illustrator Daniele Mallarico as he returns to his childhood home in Naples at the request of his daughter, Betta." I almost chose this one last night.
The Reluctant Fortune-Teller by Keziah Frost. From the book blurb: "Norbert Zelenka has always lived life on the sidelines. It's why at seventy-three years old he's broke and alone except for the company of a Chihuahua. But when "Carlotta's Club"—three strong-willed seniors with plenty of time on their hands—decide to make Norbert their latest project, he reluctantly agrees to their scheme: establishing himself as the town's fortune-teller. Soon his life begins changing in unexpected ways." It sounds like a fun story, right?
So those are my latest new books. Have you heard of any of these and what do you think? Which one would you start with first?