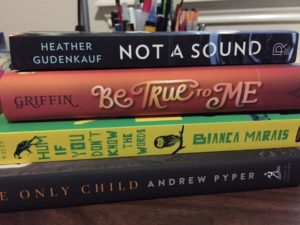 Are you ready for the weekend? I don't really have any big plans but boy, am I ready. It's been another hectic week at work and I'm looking forward to relaxing this weekend. I'm also in the middle of a lot of good books so I want to dive into them, coffee cup in hand and maybe a treat or two.
Anyway, here are some new arrivals at Casa Bookgirl. I've admit I've gone a bit crazy requesting ARCs on NetGalley but these were very pleasant surprises.
Not a Sound by Heather Gudenkauf. I've read one book by this author so I'm looking forward to this one. In this story an accident leaves a woman deaf and years later after she finds herself in the middle of a mystery that may have her question the events that led to her accident.
Be True To Me by Adele Griffin. Young love, summer romances and friendships. This looks like a fun YA book.
Hum If You Don't Know the Words by Biana Marais. Great title and cover. A novel about Apartheid-era South Africa, told through one unique family brought together by tragedy.
The Only Child by Andrew Pyper. Reimagines the origins of gothic literature's founding masterpieces—Frankenstein, Strange Case of Dr. Jekyll and Mr. Hyde, and Dracula—in a contemporary novel driven by relentless suspense and surprising emotion. Oh this sounds so good.
Let me know if you've got any of these on your TBR list. And, what are your reading plans this weekend?