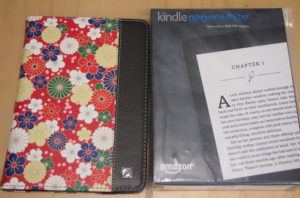 I hope you are all having a great week. I've been busy putting away some new books on my bookshelves and guess what else arrived at Casa Bookgirl? A new Kindle! My original one still works but it has a crack near one of the edges close to the screen so I was getting a bit concerned about it getting bigger and or my Kindle just stopping at a crucial moment!
I took advantage of a recent offer and voila the new Kindle is here. I haven't even opened it yet but I'll do that this weekend. Oh and isn't my new Kindle case cute? The design reminds me of some beautiful chiyogami papers so this cover actually makes me feel like I'll be holding a real bound book in hand.
Anyway, as far as the new books that have arrived these are all advance review copies:
An Almond For a Parrott by Wray Delaney. London, 1756 in Newgate prison a girl awaits trial accused of murder and she will surely hang if found guilty.
Leona: The Die is Cast by Jenny Rognesy. A Scandinavian thriller featuring Leona Lindberg of Stockholm's Violent Crimes Division. Hope this will be a great addition to the genre.
The Nakano Thrift Shop by Hiromi Kawakami. This is also a mystery but set in Japan.
All by Myself, Alone by Mary Higgins Clark. It's been ages since I've read anything my Mary Higgins Clark. This one is about a woman on a cruise which I may have to put off reading for a bit as I recently finished The Woman in Cabin 10.
I'm excited about all of these goodies. What's new in your mailbox?