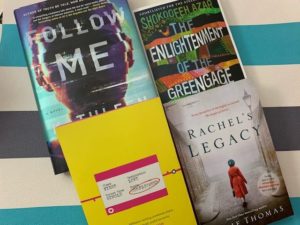 Here are the latest advance review copies that have landed in my mailbox:
Rachel's Legacy by Julie Thomas. From the description: When Dr Kobi Voight is given a set of old letters by his mother, he has no inkling that they will lead him around the world and deep into his family's tragic past. Within the letters – written in Hebrew and filled with delicate illustrations – lie the reflections of a young Jewish woman, forced to give up her baby daughter while fighting with the Resistance in Berlin.
Our Stop by Laura Jane Williams. From the description: One morning, Nadia's eye catches sight of a post in the daily paper: To the cute girl with the coffee stains on her dress. I'm the guy who's always standing near the doors… Drink sometime? So begins a not-quite-romance of near-misses, true love, and the power of the written word.
The Enlightenment of the Greengage Tree by Shokoofeh Azar. From the description: Set in Iran in the decade following the 1979 Islamic Revolution, this moving, richly imagined novel is narrated by the ghost of Bahar, a thirteen-year-old girl, whose family is compelled to flee their home in Tehran for a new life in a small village, hoping in this way to preserve both their intellectual freedom and their lives. But they soon find themselves caught up in the post-revolutionary chaos that sweeps across their ancient land.
Follow Me by Kathleen Berber. From the description: Everyone wants new followers…until they follow you home. Audrey Miller has an enviable new job at the Smithsonian, a body by reformer Pilates, an apartment door with a broken lock, and hundreds of thousands of Instagram followers to bear witness to it all.
A bit of romance, world literature, history and suspense. I think I've got some great reading material ahead. Have you heard of any of these and which one would you start with first?