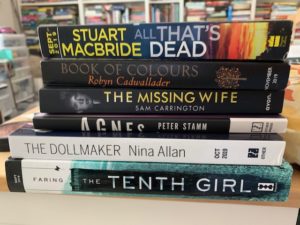 A bunch of new advance review copies have arrived this month so wanted to mention those to you in case you haven't heard of these. So here we go:
All That's Dead by Stuart Macbride. A high-profile anti-independence campaigner, Professor Wilson, is missing and Inspector Logan McRea is called to investigate. I haven't read anything by this author so I'm looking forward to a new to me series set in Scotland.
Book of Colours by Robyn Cadwallader. Set in 1321, this story is about a group of artists called to create an illuminated manuscript. A story about art and creativity? How can I not want to read this?
The Missing Wife by Sam Carrington. A sleep-deprived mom, a missing wife, and ex-boyfriends. Sounds like the perfect mix for a psychological thriller.
Agnes by Peter Stamm. Agnes tells her lover to write a story about her so she'll know what he thinks of her. He complies but is Agnes prepared to find out? Sounds intense right?
The Dollmaker by Nina Allan. From the publisher's description: Ewa chaplin wasn't afraid to make dolls that weren't comforting. She seemed to know that dolls are people, just like us. Ooh creepy. Could be the perfect RIP read.
The Tenth Girl by Sara Faring. A gothic psychological thriller set in an isolated finishing school where students are told not to roam at night.
And, I have a bunch of NetGalley eBooks I've received as well but those will be for another post. Let me know which ones sound good to you and if you were to pick one up first, which would it be?
Happy weekend!