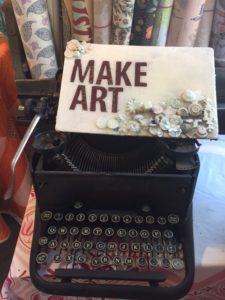 Oh boy, last week was crazy you guys. I said good-bye to my workplace of five years. I'll miss a lot of my co-workers but now it's time to find a new job. Before that though, I had a special trip planned to Paducah for some art journaling fun! I got to see a good friend and visited such a cute and creative town. It was lovely being around a bunch of artsy folks and I didn't think about anything but making art.
Our journaling weekend consisted of four classes taught by some well-known names in the mixed media world. All the teachers had so much encouragement to give and showed us some wonderful techniques. The other neat part of the retreat was that one day our workshop was held at Ephemera Paducah and the other day at the Paducah School of Art and Design, which was a fabulous space. Well, Ephemera Paducah was wonderful too but it was hard to see everything on the store's shelves and not want to buy it all!
My suitcase was actually kind of empty going there as I figured I'd be buying some stuff and the other attendees were so generous. So many made swaps/trades or just had extra crafty things they wanted to share. My suitcase came back filled with maps, craft paper, beads, paints, so much stuff. Oh and I even won a gift package featuring some DVDs and a book by Mary Beth Shaw. I love her work so this was truly special. Of course I asked her to autograph my book.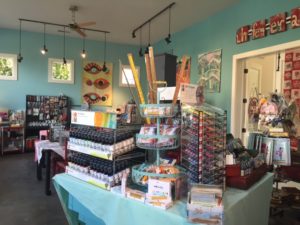 It was really a wonderful weekend. I was tired from all the creating but it is such an energizing experience to be around others who also share the same passion. I'm so thankful for my friend who picked me up at the Nashville airport and drove us to Paducah.
In between some of the classes we visited some other local shops and some fantastic coffeehouses. I feel like we barely scratched the surface. I want to go back!
I got back home late on Sunday and yesterday was all about getting on the ball with the job hunt. I need to organize my space and sort out all the goodies that I brought with me. I should take a picture of that and show you! And, most of all I want to keep on creating art so I don't forget all the lessons learned.
But, I certainly miss my blog too! I'm sorry August and September have been so sporadic around here but between vacation and the news that awaited me when I got back (the upcoming layoff), it's been a bit hectic. I'm trying to make a schedule for myself so we'll see how that goes. I will try to show you some more pictures from my art retreat if you'd like. And, I promise to get back to book blogging soon too.
So tell me what you've been up to? There's so much stuff going on around the book blog world. What have I missed?