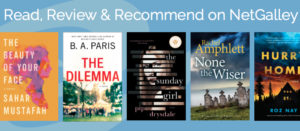 Is it me or do you find it totally easy to lose control on Netgalley? I check it out on a regular basis to see what books are coming out but before I know it, I've submitted countless requests. I really appreciate having the availability to do so and a big thank you to the publishers for making these available.
I wanted to do a quick roundup of some of the books that I've been given access to and with some cover or marketing blurbs:
The Long Farewell by Michael Innes. After being found shot in his library with a note beside him, the police are satisfied that Lewis Packford's death was a suicide. But his solicitor isn't convinced. It seems Packford was in possession of a valuable scholarly discovery, a book annotated by Shakespeare. But, upon his death, the book was nowhere to be found.
The Vineyards of Champagne by Juliet Blackwell. Deep within the labyrinth of caves that lies below the lush, rolling vineyards of the Champagne region, an underground city of women and children hums with life. Forced to take shelter from the unrelenting onslaught of German shellfire above, the bravest and most defiant women venture out to pluck sweet grapes for the harvest.
Nine Elms by Robert Bryndza. Kate Marshall was a promising young police detective when she caught the notorious Nine Elms serial killer. But her greatest victory suddenly turned into a nightmare. Traumatized, betrayed, and publicly vilified for the shocking circumstances surrounding the cannibal murder case, Kate could only watch as her career ended in scandal.
Cross Her Heart by Melinda Legh. For more than twenty-five years, Philadelphia homicide detective Bree Taggert has tucked away the nightmarish childhood memories of her parents' murder-suicide…Until her younger sister, Erin, is killed in a crime that echoes that tragic night
For the Sake of a Scottish Rake by Anna Bradley. After a sheltered upbringing, Lady Lucinda Sutcliffe is finally embarking on her first season, eager to experience everything she's missed. When Lucy realizes that her uncle plans to quickly marry her off in exchange for a slice of her fortune, she begs a favor of a new acquaintance, Ciaran Ramsey.
I have a little bit of everything here. What do you think?  Would you put some of these on your wishlist? I hope you have a wonderful weekend!