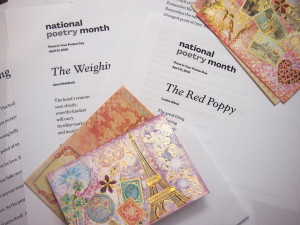 It's time to celebrate poetry once again. I try to read poetry throughout the year but with poetry in the spotlight for a whole month, it's a nice reminder to try to add more of it to my reading routine.
So if you poetry is not quite your thing or you are just looking for other ways to incorporate poetry in your life, then here are some ideas.
Take a look at the 28 most powerful lines of poetry ever written. What do you think?
Want to listen to poetry instead? You can call FSG Dial-A-Poem, each day you will be able to call 949-DIAL-FSG to hear the President and Publisher (and poet himself) Jonathan Galassi recite one of his favorite poems from a recently published collection.
If you are like me and not sure about new poetry, then check out this list of 10 New Must Read Collections.
The coloring craze has also hit poetry. Here's a Poetry Coloring book.
Finally, April 21 is Poem in Your Pocket Day. The folks at Poets.org have some great ideas of how to celebrate the day. I've already printed out some poems (pictured above) and have mailed them out to some friends.
So, I hope you'll enjoy these links. What are you doing to celebrate National Poetry Month? I'm hoping to go to a poetry reading later this  month so more on that later.