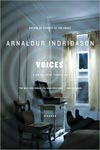 I met up with my mystery book group this week to discuss Voices by Arnaldur Indridason, and we also had a book exchange. Before I tell you about the books I got in the exchange, I'll tell you about Voices.
This is the third book in the Inspector Erlendur series and it takes place at an elegant hotel in Reykjavik right before Christmas. The doorman, who also happens to be the hotel Santa, is found dead in his room. Who would want to kill him?
As with the other two books I've read in the series the author does a great job at characterization. You really get to know the Inspector and what haunts him so. There is one bit that I didn't like as much and that's the secondary story line about another case the detectives are following. I felt like that took me away from the main story. Still, this is a wonderful series and I'm looking forward to the fourth book, The Draining Lake, which was recently published in the States. Anyway, here's my review.
Now, the exchange was tons of fun. I still don't know how I came out with more books than what I took but I won't argue with that. Here are my goodies:
I'm most excited about The Onion Girl and The Janissary Tree as I've read some good reviews of those books by some of my book blogger friends. I've not tried anything by the other authors and while most of the books are a bit different from my typical reads, I thought why not check them out.
Oh yes, and now I need to get a hold of The Butcher's Theater by Jonathan Kellerman as that is our reading selection for January.