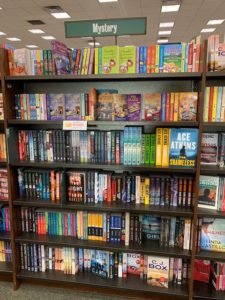 I went to my book group night on Tuesday and we discussed Auntie Poldi and the Sicilian Lions by Mario Giordano. I think it was a bit of a mixed bag for the group. Some didn't care for the main character at all while others thought she was a great character. I wanted to like this one a lot more than I did but sometimes that happens right? Our next book to discuss will be The Awkward Squad by Sophie Henaff
While I was hanging around the bookstore browsing before our discussion I found a few other books either on the shelf or mentioned in magazines that were mysteries I wanted to check out. So here they are:
The Ghost Manuscript by Kris Frieswick. Rare books, a tomb and a secret that could rewrite the history of Western civilization. What's not to love!
The Conviction of Cora Burns by Carolyn Kirby. A debut novel that delves into Victorian London's dark underbelly and the question of where we first learn violence: from our scars or from our hearts.
One Small Sacrifice by Hilary Davidson. An apparent suicide. A mysterious disappearance. Did one man get away with murder—twice?
Two Girls Down by Louisa Luna. When two young sisters disappear from a strip mall parking lot in a small Pennsylvania town, their devastated mother hires an enigmatic bounty hunter, Alice Vega, to help find the girls.
Let me know if you've read any of these or if you're also got these on your wishlist. I hope you all have a wonderful weekend and more book talk soon!