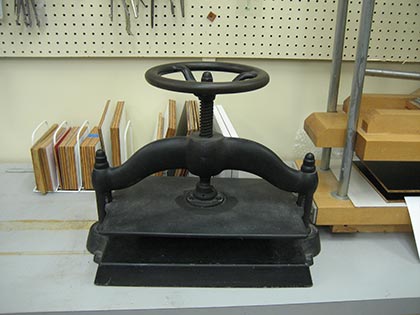 Today was my second bookbinding class at the Craft Guild of Dallas. I didn't tell you about my class last week because all I did was cut paper and I'll admit cutting paper is my least favorite part of the whole process. Today was my favorite though, sewing. I love to sew and learn new stitching techniques.
Our studio is well-equipped and I'm taking note of a few extra things I need to get for my own studio (I don't really have a studio – it's just that my living room has sort of morphed into one). For example, isn't this book press great? I wish I could get my hands on one of those.
Anyway, for my first project I'm learning how to make a multi-signature hardcover book. I've made one before but it's been a long time ago so I actually feel like I'm learning it for the first time. I think in our next class I will probably decorate the book boards. It's a slow process but so worth it. Unfortunately, I don't think I'll have any show and tell for a while but stay tuned.
And, good thing I'm back to making books because I just ordered, Journal Revolution, so I'm sure I'll need lots of blank books to play with.