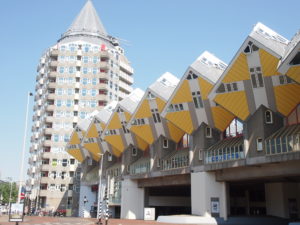 Our two other day trips from Utrecht were to Rotterdam and The Hague. Armed with maps we picked up from the Tourist Information centers we had nice walks planned out in both cities and the walks would take us through some must-see points.
In Rotterdam I loved the cool architecture we saw. One fun building we saw was the Cube Houses. These bright square shaped cube buildings were designed by Piet Blom in 1984. There is one set aside as a "museum" which you can go in and explore. Well, it's quite compact but definitely fun to check out
Our walk also took us to the Market Hall which is a great indoor market. You can find sweets, veggies and meats and all sorts of food shops. With so much to look at it was actually almost hard to decide what we wanted to eat.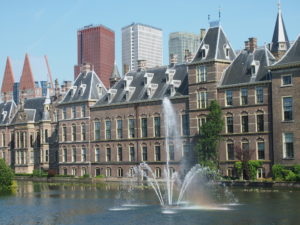 In The Hague we enjoyed going to the Peace Palace and learning more about its origins. Makes me wish more people would go visit and perhaps think more peaceful thoughts! We also found a great little restaurant to try Indonesian food which is apparently very big in Holland. My husband and I ordered the same thing but they served us slightly different dishes which was great as we got to taste a bit more variety. I loved the curry chicken with rice that I had.
Perhaps though the highlight of The Hauge was seeing  this girl.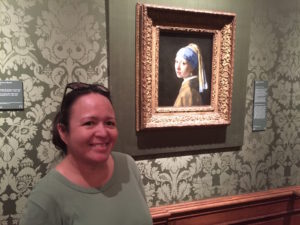 The Mauritshuis museum has a wonderful collection of 17th and 18th century art and to see this Vermeer painting was really amazing. The Anatomy Lesson by Rembrandt was quite unique. Oh and The Goldfinch was there too!
So that's our Netherlands trip in a nutshell. I visited bookstores in all of these cities and I do have purchases to tell you about but I'll save those for another post.
First though I also have to tell you a bit about Germany. Hope you are having a great weekend so far!