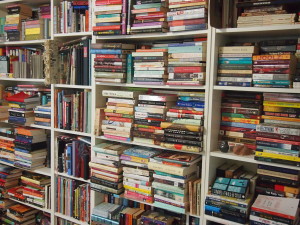 Here we are a new month and so many books to look forward to but before I talk about that, let me go over what February was like.
I'm happy to look back on my books read and see that I've kept up my reading pace and read six books: A Barricade in Hell by Jaime Lee Moyer, The Last Policeman by Ben Winters, A Scream in Soho by John G. Brandon, Midnight in Mexico by Alfredo Corchado, Doll God by Luanne Castle, Unbecoming by Rebecca Scherm and A Game for Swallows by Zeina Abirached.
What I'm most excited about is that I had a good mix of poetry, fiction, mystery, non-fiction and even a graphic novel. One book was a translation and two books count toward my reading challenges. Woot! Hopefully I'll get around to all reviews soon.
This weekend I cleared off one of my craft tables and set out some paper to prepare for some bookbinding. Oh and a big event that happened this week is that I reached 400 sales in my Etsy shop!
So between that, dinner with friends, errands and a quick trip to the library (more on that soon) the weekend is quickly coming to a close. I hope you have a great reading month ahead. Tell me what books you are looking forward to?