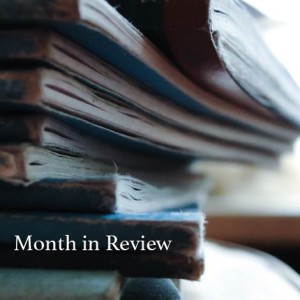 I don't know about you but I feel like April just zoomed by and here we are at another month in review post. So let's get to it.
This month I read three books: River Road by Carol Goodman, Blood Salt Water by Denise Mina and While the City Slept by Eli Sanders. By far the most powerful read was While the City Slept. I don't think I got around to mentioning that I was reading this book but it was really good. Normally not my type of read as it is a true crime book but it made me sad and angry and just stayed with me for days.
I currently have five books I'm reading so I would like to focus on those before adding any new books but I'm so tempted by new stuff on my shelf and Kindle.
National Poetry Month is almost over and I didn't get a chance to go to any spoken word events but I tried to read at least a new poem a day, which was easily accomplished by the daily emails I got from Poets.org. I also started reading a collection by Sonia Sanchez but unfortunately had to return it back to the library before I could finish it. I do know that I'll be going back to this poet at a later time. I really enjoyed her work.
Looking forward to May I think I'm going to be relying on a lot of comfort reads as I have quite a lot of stuff going on but luckily vacation will be around the corner. In the meantime, did you know that Saturday is Independent Bookstore Day? I was planning to dedicate my weekend to organizing my house a bit but a trip to one of our Indie bookstores might be in the works. I'll keep you posted.
Anyway, I hope you have a great weekend and I would love to hear how your month was. Any big reading plans for May?