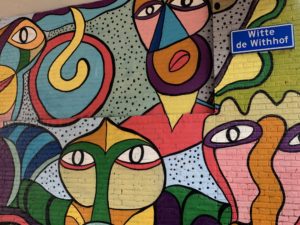 Isn't this great street art? So colorful. We saw this in Rotterdam.
Anyway, time to do a wrap up of the month. July was definitely a good reading month thanks to vacation as I was able to read quite a bit. I finished seven books and although there are a couple I am already having a hard time remembering exact plot details, I know that I did enjoy them at the time. The books I read were:
Perish by Lisa Black. This is the third in the series and I did like it a lot.
Her Pretty Face by Robyn Harding
Murder on Trinity Place by Victoria Thompson. This is the 22nd installment of the Gaslight series. Definitely a cozy and not a lot happens but I'm feeling very invested in this series now.
The Body Lies by Jo Baker
How to Walk Away by Katherine Center
Swiss Vendetta by Tracee De Hahn
The Chestnut Man by Soren Sveistrup. My favorite of all the reads.
Now to look forward to a new month. I have a couple of books I'm juggling which are really good and I also have quite a few new books to tell you about. What are you looking forward to in August?