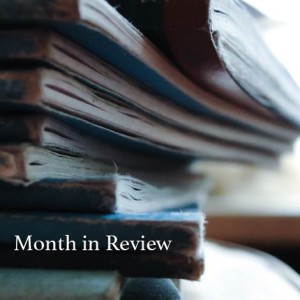 Until next year, April! What a crazy busy month at home and work. I'm glad a new month is coming around and while I don't think all of a sudden all of the demands will go away, it's exciting to look forward to a new month. Despite all the busy-ness, my reading went pretty well as I finished six books.
Here are the books I read:
I Let You Go by Claire Mackintosh
Rolling Blackouts by Sarah Glidden
The Crooked Inheritance by Marge Piercy
The Chalk Man by C.J. Tudor
Snap by Belinda Bauer
Something New by Lucy Knisley
My two favorites were the poetry collection by Marge Piercy and the thriller by C.J. Tudor. It's not a surprise to me either that the books I fell back on were mainly mystery/thrillers. At least I did branch out a bit and enjoyed two graphic novels.
So while I didn't get to post much this month there was a lot of reading going on. I have been enjoying several magazines which have piled up on my nightstand. Lots of World Literature Today and Art Journaling editions.
Did you guys do anything to celebrate World Book Day? I took advantage of the Amazon Read the World promotion and added several new books to my Kindle.
Alright now it's time to get back to reading. Hope you are all having a wonderful week and here's to joyful month ahead!