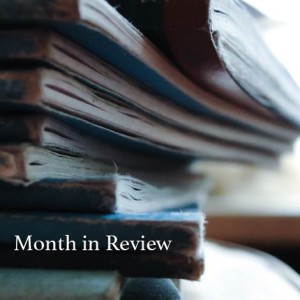 I didn't think I had read too much this month but now that it's time to take a look at my finished books, I'm pleasantly surprised to say I finished seven. I had a really great reading month despite the fact that I've also been pretty busy with my job search, family stuff and you know, life.
Here's what I read: The Child by Fiona Barton, Notes from a Public Typewriter by Michael Gustafson & Oliver Uberti, The Widows of Malabar Hill by Sujata Massey, Murder on Union Square by Victoria Thompson, Woman Last Seen in Her Thirties by Camille Pagan, This Could Hurt by Jillian Medoff and Seeing People Off by Jana Benova.
Mystery, non-fiction, fiction and fiction in translation. I loved the variety of books and my two standouts were Notes from a Public Typewriter and This Could Hurt. I hope I can tell you more about these soon but if you have these books on your shelf or radar, make sure to move them up on the list.
I have another book I'm almost done with but I don't think I'll get to finish it tonight.
As far as next month is concerned I think I'm ready to read books set in cold places. Our temperatures are already going to be the 100s. Needless to say, for me my hiking shoes and bike are put away until October. Ha.
Anyway, that's a wrap for May. Now to see what good books June will bring. Hope you guys have a great weekend and more book talk soon!