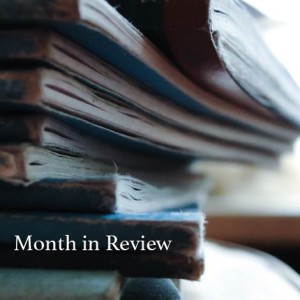 Happy Halloween everyone! Hope you've had your fill of chocolate and other treats. We kept the lights off at Casa Bookgirl as it was a bit of a rainy night and I didn't think that many kiddos would stop by. So it's time for a Month In Review and October was a great month. So let's get into it.
I finished five books and completed the R.I.P. Reading challenge! Books read were Murder In The Bowery by Victoria Thompson, The Laptev Virus by Christy Esmahan, The Chalk Pit by Elly Griffiths and the two that counted towards the R.I.P. challenge were Frankenstein by Mary Shelley and The Winter People by Jennifer McMahon.
With the exception of The Laptev Virus, all books were great and I would say two may even make it on my favorites of the year. Frankenstein and The Winter People were fantastic. They were atmospheric and thought-provoking and the perfect choices for R.I.P. Reading. Before I forget, thank you to Andi & Heather for hosting this year's challenge.
Being that I'm not working right now I thought I would have read a lot more but my job search, mom and other projects are taking up a lot of my time but I'm still very happy with the number of books read. But, can you believe we are getting closer to the end of the year? I saw a Goodreads Poll to vote for your favorites of the year – I'm not ready!
Anyway, the end of the year is always a busy time but I'm looking forward to Nonfiction November, making progress in reading challenges, putting together reading lists to end the year and just so much more. What about you, how was your month and what are you looking forward to in the next couple of months?