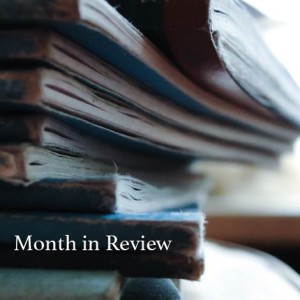 I hope you all had a wonderful weekend. We got to see some friends today who were in town visiting. They've moved to Sweden last year so it was great catching up with them and we hope to see them again later this year (in Sweden!). I did my bit in supporting the independent bookstores by spending some time browsing in Malvern Books and I'll tell you more about my finds in another post.
This post however is about April reads. I wasn't sure how the month was going but in the end it was a good month.
I read poetry, mysteries, a book in translation – basically a good mix and total of six books. The books were: Where'd You Go Bernadette by Maria Semple, The Dry by Jane Harper, In this Grave Hour by Jacqueline Winspear, Interference by Amelie Antoine, Where All The Girls Have Gone by Jayne Ann Krentz and a collection of Langston Hughes poetry. While I enjoyed most of the books my favorite was definitely the Hughes poetry collection.
This month is also my quarterly check in on my Reading Challenges for this year. I'm participating in four challenges and here's my progress so far:
What's In A Name – Two out of six books read
Back To The Classics – One book out of 12 categories
Read My Own Damn Books – Seven out of 20 books
Poetry Reading challenge – Two out of five collections read
I have to say that when I choose books I don't necessarily think about the challenges. It's mostly after I read the book that I wonder if I can add it to the totals so I'm pretty happy with my progress so far. I do wish I was making a bit more progress on the Classics but let's see what the next few months bring.
How about you, how was your reading month and what are you looking forward to in May?