I finished two books this week and believe it or not I've only added one new book to my current reads. Having mentioned Brooklyn Wainwright in the Tuesday Top Ten meme I thought it was a good time to revisit with the character and surprise, surprise there are now eight books in the series of the bookbinder who happens to solve murders on the side.
So last night I started Murder Under Cover which is the fourth book in the series. I don't read cozy mysteries very often but this one certainly appeals to me because of the bookbinding angle. In this book Brooklyn is going to help her best friend who finds herself framed for murder.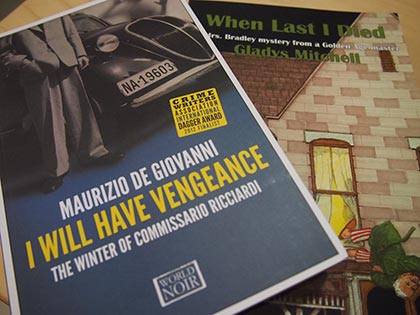 A couple of new book s arrive in my mailbox this week. I Will Have Vengeance by Maurizio de Giovanni which is my February read for my mystery book group. It's a World Noir book so I'm sure it's going to be gritty and dark and thank goodness I'm reading a cozy to offset that. Ha.
I also received When Last I Died by Gladys Mitchell. This one is for the Vintage Mystery Bingo challenge. I was a little stuck on which book to add to my list because when it comes to writers of the Golden Age of mysteries my knowledge is limited but I found Rue Morgue Press and wow, there are so many books to explore! I love finding a new bookish source, don't you?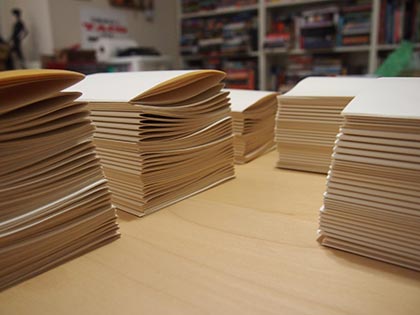 Alright so that's the scoop. I hope you are all staying warm this weekend. I'm planning on lots of cups of coffee and some serious bookbinding going on. This week I opened a ream of paper and cut up and folded the whole thing. Now all of these signatures are waiting to be bound.
Happy Weekend!