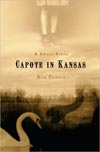 I'm very excited to introduce to you Kim Powers, author of Capote in Kansas. He's just started a blog tour to introduce us to his novel, which is an engaging story about Truman Capote and Harper Lee. Kim took the time to answer some Q&As so I hope you'll enjoy reading this.

Bookgirl: How did you come up with the idea of Capote in Kansas?
Kim Powers: It evolved slowly over time, and I jumped into the writing without really knowing what the whole plot would be. But I had carried a fascination with Capote and Lee with me from the time I was a kid. After I saw the movie of To Kill a Mockingbird – long before I read the book– I discovered that the character of Dill Harris was based on Truman Capote, who had grown up next door to Harper Lee as a child. Then somewhere down the road, I found out that when Truman went to Kansas to start researching what would become In Cold Blood, he asked Harper to be his assistant. She was completely unknown at that point; Mockingbird hadn't yet come out. I loved the idea that this woman we assumed was so sentimental and lyrical could get into the blood and gore of a true crime story. Mind you—doesn't that sound Southern?
I had started Capote in Kansas long before I heard about the two Capote movies being in the work, so I thought I would be the one "breaking" the somewhat little-known story of Truman and Harper being in Kansas together. So what I started with was an idea about their childhood together, and their time in Kansas. The idea of it taking place in the last year of Truman's life—and of the ghosts and dreams sort of uniting them, and the strange packages that Truman sent Harper—came somewhat later and instinctually – "let's see what this does to the plot." (Not necessarily the best way to write a book, discovering it as you go along, but the way I've always written.)
BG: Did you find it challenging to take on such well-known figures and create a story around them?
KP: I didn't let it cow me, although I knew it was a risky thing to do, in terms of readers' judgments. I was doing a ton of research as I was writing, and the characters were evolving. I found all the photos I could of Truman (plentiful) and Harper (much more rare) and pinned them up around the little desk where I write—and I listened to Elmer Bernstein's magnificent soundtrack to the movie of Mockingbird – and I just tried to look into their eyes, and see further into their heads. (When I started, I even thought I might be making it more a roman a clef, based on the real people but with the names changed. I deliberately refer to Harper as Nelle, her first name, to allow me to make her more of a fictional character. I tried other names for the characters, but nothing I could make up had the iconic power of the real names.) In my head, I always referred to the book as a "fantasia" – that helped free me from the idea, or anyone's assumption, that I was writing a literal biography.
BG: How long did it take you to write the story? I understand the subject matter is one that has fascinated you for a while. Was it hard to let go of the characters once you finished the book?
KP: I think it took a little over two years, written on weekends and mornings before I would go into my full time job. I can literally track its progress from trips to Provincetown on Cape Cod that my boyfriend and I used to take every summer. I remember a trip there, early in the writing, when I had about two chapters written. On that vacation, in our little ramshackle cabin on a whaling wharf literally over the bay, the water lapping underneath me, I came up with the device of having the ghost – or the drunken hallucination of the murdered Nancy Clutter – come back to haunt Truman, and him calling Harper for the first time in decades. Originally the book had started with their trip to Kansas.
About two years later I had finished a few drafts of the book, and I read the whole thing aloud to my boyfriend on our seven or eight hour drive from NYC to P-town. Then I continued reading him a little bit more every day after lunch, like my grade school teachers used to read books aloud after our lunch breaks. It was a wonderful experience – and I remember how stunned we both were when I finished. There was more work to be done, of course, but that early reading gave me the faith and confidence that I had written something meaningful.
When I finish a book – and I've now written three – I go through a very debilitating post-partum depression: relief I've finished, but wondering what do I do NOW with my time? And I really did come to love the characters – not just Truman and Nelle Harper, but Truman's housekeeper Myrtle Bennett as well.
BG: What would you like for your readers to come away with after reading Capote in Kansas?
KP: Number one, I hope they've experienced a great story – one that has mystery and suspense, and keeps them turning pages. Number two, I hope they've felt the same range of emotions that the characters have. By the end of the book, there's a sense of the melancholy of life ending, but of life going on as well. It ends in a cemetery for heavens sake! By the time I got to the end, the thing that had become most important to me was the theme of forgiveness—knowing that whatever had happened in your life, you had always tried to do your best. I think that's what Truman and Nelle feel by the end of the book, that they can look back on their lives and be at peace with what they'd accomplished, their legacies. But mostly, I hope readers know that I "used" the characters of Truman and Harper with great feeling –that no matter what they've gone through (and Harper goes through some controversial things), they've done it truthfully, and soulfully. These aren't superficial portraits. They're flesh and blood, warts and mistakes and triumphs and all.
BG: I'm sure in your research of Truman Capote and Harper Lee you must have come across many little-known details that you may not have had a chance to put into the story. Is there one you'd like to share with us?
KP: I came across so much more research about the true crime book called "The Reverend" that Harper had been working on, many more details about her going to the county seat and researching the story of a minister who murdered several members of his family. But it was taking away from the main story and taking on a life of its own, so I cut it way down.
I also came across much more research about the "snake boxes" (as I call them) that Truman started creating late in his life. Very few people knew about them; he went to a bookstore owner in NYC and talked about delivering something "top secret," and the owner that it was the complete manuscript of the full-length novel Answered Prayers that Truman had been talking about for years. Nope, not that—just his decoupaged boxes, which were eerie, but not quite as ornate as I've made them. He certainly did send them anonymously to Harper Lee – that's my own invention. I ultimately found pictures of seven or eight of them being sold at auction over the last few years. Not hugely expensive—a few thousand dollars – but out of my league! (If a wealthy fan wants to buy one for me, please do!)
BG: For readers who may not have read In Cold Blood and/or To Kill a Mockingbird and aren't sure if they should dive into Capote in Kansas because they may be a bit lost what would you tell them?
KP: Jump on in – the water's fine! I was aware of that potential wrinkle when I wrote it, and probably presumed more people knew Mockingbird and In Cold Blood than do. A friend even suggested I write a little précis of each book at the beginning of mine as a reference point. But I don't think that ultimately anything is in Capote in Kansas that you can't get from the text alone.
BG: You are also a writer/producer for ABC's Primetime Live program. How do you juggle writing news and writing fiction?
KP: On one hand, they're two completely different animals, but they both inform each other. The whole trick in TV writing is to get viewers to come back after the commercial. I used to write/produce for Good Morning America, where there are numerous segments, and the success was dependent on teasing each upcoming segment in such a way that viewers HAVE to come back to get a question answered. So I try to set up a similar kind of "big question" at the beginning of my books, that you'll want to read through some 300 plus pages to get answered – why is Truman calling Nelle? Is he sending her these strange boxes? Why? (In my first book, a memoir called The History of Swimming, about the disappearance of my twin brother, the question that drives to the end of the book is "Will I find him – and will he be dead or alive?").
BG: When you're not writing, are you reading? What are some of your favorite books/authors?
KP: I run the gamut from really smart and challenging to really passive. Mostly fiction, not much non-fiction, although I love narrative non-fiction like The Devil in the White City. When I'm in the thick of working on something – and I just finished a new book, and was living it day and night—I just can't take in anything very demanding. That's when I tend to read a lot of mysteries, especially series: the Maisie Dobbs books by Jacqueline Winspear, the Laurel K. Hamilton Sherlock Holmes series, the Barbara Cleverly Joe Sandilands series, etc. Not that those are dumb books by any means – but it's just very easy and comforting to read something familiar.
Lately I've been reading a lot of the English writer Kate Atkinson, who just has a new book out. Some of her earlier things are a bit more challenging, like Human Croquet, which I loved. I just read the new Hannah Tinti book The Good Thief and really loved it. Away from a book, I love to dig into something big and overwhelming, like Jeffrey Eugenides. I'm looking forward to the "Edgar Sawtelle" book too.
BG: What can readers expect from you next? Do you have a new book in progress?
KP: I just finished a new book, a novel called The Movies We Watched (The Year My Father Killed My Mother). It's about a little boy whose mother has died, and bit by bit he becomes convinced that his father did her in, so he could be with his new girlfriend. He tells this story week by week, via scrapbook entries he keeps about the movies he goes to see—complete with movie ads clipped out of the local paper– and he starts playing detective based on the things he sees in the movies. It's somewhat autobiographical, about me trying to solve the mystery of how my mother really died. I literally just turned it into my agent, and she'll begin submitting it to publishing houses next week! Wish me luck!
Best of luck to you Kim with that new book and thank you so much for taking the time to answer these questions.
For those of you who haven't read Capote in Kansas yet, I hope you'll check out the novel. Please see my full review — I was blown away by the range of emotions the characters showed throughout the book and just really enjoyed the idea of a 'what might have been' story.
As I mentioned, Kim has just started his blog tour and I know he's going to be visiting some of my favorite bloggers so please check out the full schedule and hope you'll visit him at these other sites. You can also visit him on his site to learn more about his work.