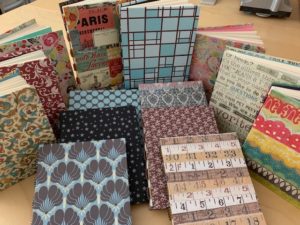 I hope you all had a great weekend. For me it was pretty much working in the studio. It was so much fun. I've made some journals here and there along with my other crafty projects but this weekend there was some serious bookbinding going on.
A bit that was prompted because you can find my journals at the Georgetown Art Center gift shop and they are running out so asked me if I wanted to send them more. Of course!
I also have to say big thanks to my husband who cut book board for me. That is definitely my least favorite thing because even though I have a very nice papercutter, board is heavier and it takes a lot more strength to make a nice clean, even cut.
So I'm still not done with this bookbinding project. I made quite a few of my beaded journals and some may go into my Etsy shop, but I also need to make some sketchbooks and my postcard journals. I have a lot of work waiting for me but I love it. I put some music on and enjoyed the time in my craft studio.
The only downside is that I did not make as much progress in my reading. I have several books I'm currently reading but the one I'll probably finish soon is Ask Again, Yes by Mary Beth Keane which I've really enjoyed.
Alright, that's about it so now let's see if I can catch up on some reading before it's time to go to sleep and get ready for a new work week.