Remember when I said I was working on a new book that required vellum? Well, I'm finally getting back to this book. For this I'm using a tacket binding method which requires that the vellum strips, which have been soaking in wheatpaste, go through the holes in each of the signatures. Not an easy feat I must say. Here's a picture of the work in progress.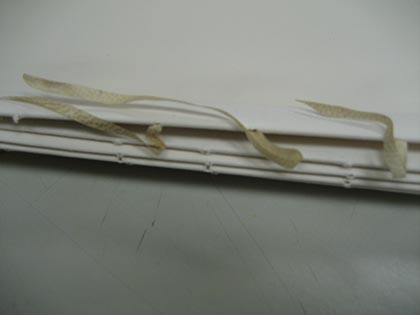 After the strips are brought through, then I pick up the book spine and work them through it. I'll weave the strips through the slits I made in the spine so no actual sewing is required for this book. When the wheatpaste dries, the vellum will pull together and there's the binding. Here's what the spine is starting to look like: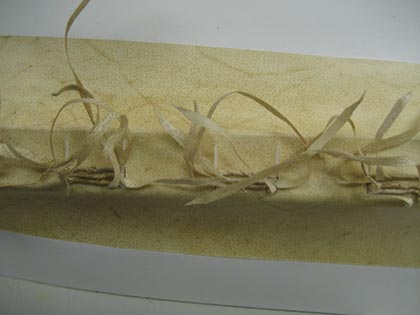 I love that the strips have this wild look to them. It took me about two hours to work through three signatures so I still have quite a bit of work left on this book. And, as I'm getting closer to adding the last signatures (I have about three left) it becomes harder to add them to the spine. Things get a bit tight there.
Once the spine is done, then I'll add the covers. This is a big book too. I normally prefer to work on smaller size books but this one I hope will become a scrapbook, so I needed lots of room for pictures, journaling and ephemera.
In other bookbinding news, I am also working on some coptic journals which I hope to add to the shop in the next couple of weeks. Coptic journals are becoming my favorites. The binding is pretty and they are sturdy. Here's a picture of one of the ones I finished, which actually won't be making it to the shop as it has a big boo-boo. A good learning process and hey, I was able to salvage the book so I can use it.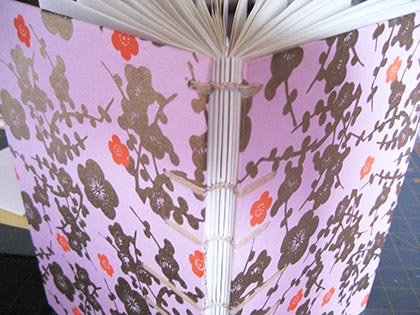 Sorry for such bad photos but I was in a rush. Once the projects are done I promise nicer pics. Now I'm off to relax with some good books as my back and arms are a bit tired from a long day of bookbinding.