I'm working on a new little book this week for which I'm planning to use some library pockets (actually I've made these before but it's been a while). Anyway, as I'm not planning to decorate these I thought the pockets looked a bit plain so I decided to make some walnut ink to stain them.
Doesn't it look like I'm brewing some awful potion? It came out pretty dark but I can dilute it as I work with it.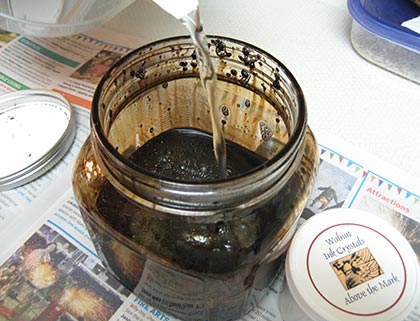 This is about as much "cooking" that actually gets done in our house. Ha,ha…
Anyway, speaking of potions I'm still reading Behold, Here's Poison by Georgette Heyer. Things are heating up in this mystery now that the general has died and all the family is being investigated for having done him in by poisoning. There are lots of potential murderers and I still haven't quite decided who I think did it.
Hopefully tomorrow I'll have some reviews for you on books that are out of this world.