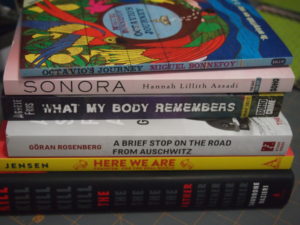 I still haven't finished my big reorganization project of my studio/library and I  have to get busy on that because I've received more advance review copies and where do I fit these? I can't complain, I love new books so let's get into it and let me tell you what I got. The brief descriptions are from the book cover and/or publisher.
Octavio's Journey by Miguel Bonnefoy. A chance meeting in the local pharmacy transforms the life of lonely, illiterate Octavio. He begins reading lessons and finds love and happiness for the very first time.
Sonora by Hannah Lillith Assadi. Ahlam, the daughter of a Palestinian refugee and his Israeli wife, grows up in the arid lands of desert suburbia outside of Phoenix. In a stark landscape where coyotes prowl and mysterious lights occasionally pass through the nighttime sky.
What My Body Remembers by Agnete Friis. Ella Nygaard, 27, has been a ward of the state since she was seven years old, the night her father murdered her mother. She doesn't remember anything about that night or her childhood before it—but her body remembers.
A Brief Stop on the Road From Auschwitz by Goran Rosenberg. This shattering memoir by a journalist about his father's attempt to survive the aftermath of Auschwitz in a small industrial town in Sweden won the prestigious August Prize.
Here We Are: Feminism For the Real Word by Kelly Jensen. Forty-four writers, dancers, actors, and artists contribute essays, lists, poems, comics, and illustrations about everything from body positivity to romance to gender identity to intersectionality to the greatest girl friendships in fiction. Together, they share diverse perspectives on and insights into what feminism means and what it looks like.
Kill The Father by Sandrone Dazieri . In this fascinatingly complex thriller, two people, each shattered by their past, team to solve a series of killings and abductions—a ruthlessly planned escalation that turns out to be merely the visible surface of something far more sinister.
Non-fiction, works in translation and mysteries. What a great variety of books. Have you heard of some of these? Are they on your radar? Before I can get to any of these I need to get back to my current reads and hopefully finish one more before the month ends.