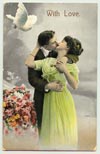 "You can't lose if you give them handsome highwaymen, duels, 3-foot fountains and whacking great horses and dogs all over the place" ~Barbara Cartland
In my post yesterday I said that I've been reading quite a few romance novels lately and Nancy mentioned that it almost sounded like I was a bit embarrassed to admit that. Reading back on my post it does sound a bit like that. It's so funny because I'm one of the first people to say, "read whatever you like, as long as you read!"
I don't "hide" my book covers from others if I'm reading YA, Fantasy or some other genre but I guess romance novels just get such a bad rap it's sometimes hard to say, sure, I can enjoy a good historical love story. I went through a phase in my early twenties when I read quite a few romance novels but all of a sudden I just kind of got over them. I checked out a few here and there over the years but never really went back to the genre.
So again, for some reason when I got sick all I wanted were stories to entertain me and I found some good love stories that did just that. I read Wait Until Midnight and The River Knows both by Amanda Quick and The Bargain by Mary Jo Putney. I think I read each book practically in one sitting. Sure they were predictable but they were just so enjoyable and that's a good thing.
Will I be checking out more romance novels this year? I don't know. Maybe, why not? I realize that reading these books it was another way to get a nice break from some of my usual reads. I enjoy changing up my genres although I tend to stick with the same books but every once in a while it sure is nice to venture to another area of the bookstore/library isn't it?
And, what with Valentine's Day upon us I say it was perfect timing to be reading these books don't you think? I hope you all have a wonderful Valentine's Day and love and friendship to everyone!