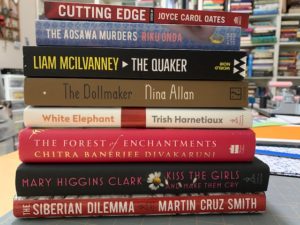 Remember I said I was taking a break from the library until the end of the year? Well, this is why? Look at all the books that have arrived at Casa Bookgirl! Let's talk a bit about them:
Cutting Edge by Joyce Carol Oates. This collection of short stories features writing by Margaret Atwood, Edwidge Danticat and other writers to feature female-centric noir. How can you go wrong with this one. Really excited about this anthology.
The Aosawa Murders by Riku Onda. The novel starts in the 1960s when 17 people die of cyanide poisoning at a party given by the owners of a prominent clinic in a town on the coast of the Sea of Japan. The only surviving links to what might have happened are a cryptic verse that could be the killer's, and the physician's bewitching blind daughter, Hisako, the only person spared injury. I love Japanese literature so I'm excited to discover this author.
The Quaker by Liam McIlvanney. Now to move to another part of the world, this mystery is set in 1969 and Glasgow is in the grip of the worst winter in decades. But it's not the weather that has Glaswegians on edge: a serial killer is on the loose.
The Dollmaker by Nina Allen. Stitch by perfect stitch, Andrew Garvie makes exquisite dolls in the finest antique style. Like him, they are diminutive, but graceful, unique and with surprising depths. Perhaps that's why he answers the enigmatic personal ad in his collector's magazine. Sounds a bit creepy right?
White Elephant by Trish Harnetiaux. A crackling Christmas mystery that combines murder and blackmail at a holiday office party, in a mashup reminiscent of Big Little Lies and Clue. This sounds like the perfect book for this season.
The Forest of Enchantments by Chitra Banerjee Divakaruni. The Ramayana, one of the world's greatest epics, is also a tragic love story. In this brilliant retelling, Chitra Banerjee Divakaruni places Sita at the centre of the novel: this is Sita's version. Not only this does sound like a wonderful story but I wish you could see the cover. It is beautiful.
Kiss the Girls and Make Them Cry by Mary Higgins Clark. When investigative journalist Gina Kane receives an email from a "CRyan" describing her "terrible experience" while working at REL, a high-profile television news network, including the comment "and I'm not the only one," Gina knows she has to pursue the story. But when Ryan goes silent, Gina is shocked to discover the young woman has died tragically in a Jet Ski accident while on holiday. I remember reading a bunch of her books in the late 80s.
The Siberian Dilemma by Martin Cruz Smith. Journalist Tatiana Petrovna is on the move. Arkady Renko, iconic Moscow investigator and Tatiana's part-time lover, hasn't seen her since she left on assignment over a month ago. When she doesn't arrive on her scheduled train, he's positive something is wrong.
That is a lot of books isn't it? I'm so thankful to the publishers who send these out to me. I am excited about all of these just not sure which one to start with first. Which one would you pick?