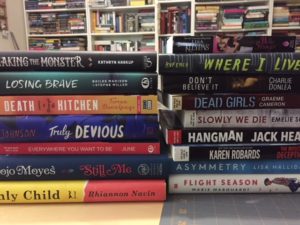 I hope you all had a great weekend. It was a cold and gray one here but that meant a lot of time indoors and playing with paper, both reading and making books. I need to write up a couple of reviews of books I've recently finished but before I get to that I must share the new books that have arrived. There's a lot here so let's get to them:
Only Child by Rhiannon Navin. A tenderhearted debut about healing and family, narrated by an unforgettable six-year-old boy who reminds us that sometimes the littlest bodies hold the biggest hearts and the quietest voices speak the loudest.
Still Me by Jojo Moyes. I loved Me Before You and the sequel was a bit underwhelming but I'm hoping this will be a satisfying conclusion to Louisa's story.
Everywhere you Want to Be by Christina June. A YA modern tale inspired by the classic Red Riding Hood story.
Truly Devious by Maureen Johnson. I know a couple of you have already read this one and enjoyed it. This is a tale of murder and mystery in the first book of a striking new series, perfect for fans of Agatha Christie and E. Lockhart.
Losing Brave by Bailee Madison & Stefne Miller. More than a year has passed since seventeen-year-old Payton Brave's twin sister went missing; and Payton, in her desperate attempt to hold on to what's left of Dylan's memory, is starting to crack.
Making the Monster by Kathryn Harkup. The year 1818 saw the publication of one of the most influential science-fiction stories of all time. Frankenstein: Or, Modern Prometheus by Mary Shelley had a huge impact on gothic horror and science fiction genres. But how did a 19-year-old woman with no formal education come up with the idea for an extraordinary novel such as Frankenstein?
Flight Season by Marie Marquardt. A story of two teenagers learning what to hold on to, what to let go of, and that sometimes love gets in the way of our plans.
Asymmetry by Lisa Halliday. A tender and exquisite account of an unexpected romance that takes place in New York during the early years of the Iraq War
The Moscow Deception by Karen Robards. Bianca St. Ives was recently put through the wringer, but she came out the same way she always does—the way her father trained her to—hungry for a fight.
Hangman by Jack Heath. An addictive debut thriller starring a FBI consultant with a peculiar taste for crime and punishment…
Slowly We Die by Emelie Schepp. A tragic incident on the operating table leaves a patient damaged for life and leads a young surgeon to abandon his profession as a physician… Now, years later, a series of senseless, gruesome murders are rocking the same medical community.
Dead Girls by Graeme Cameron. It's been two months since a serial killer brutally attacked police detective Alisha Green and left her for dead. Two months since she could effortlessly recall simple things. Ali Green plans to show him he's dead wrong about her.
Don't Believe It by Charlie Donlea. A novel of suspense in which a filmmaker helps clear a woman convicted of murder—only to find she may be a puppet in a sinister game.
Where I Live by Brenda Rufener. Linden Rose has a big secret–she is homeless and living in the halls of her small-town high school. Her position as school blog editor, her best friends, Ham and Seung, and the promise of a future far away are what keep Linden under the radar and moving forward.
Hello Stranger by Lisa Kleypas. Dr. Garrett Gibson, the only female physician in England, is as daring and independent as any man—why not take her pleasures like one? Yet she has never been tempted to embark on an affair, until now.
That is a lot of books right? I haven't even told you about all the digital ARCs I've received but that will be for another post. Let me know if you've read some of these or have heard about these. I don't even know where to start. Where would you start?