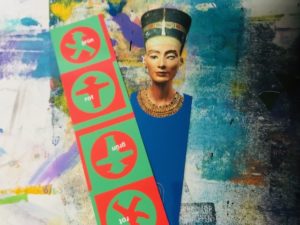 You guys, you won't believe it. I was looking around in my stacks of craft book stacks looking for a particular magazine when I found some pictures and brochures. I looked through them and they were from a trip to Berlin in 2008! I realized that I had saved those items next to that magazine because there was a neat photo album idea that I wanted to make. Obviously I forgot to get around to it. But I also discovered a little paper bag and in it were these two bookmarks! How could I have forgotten those? I guess that's what happens when you have too many books and bookmarks
Anyway, I wanted to follow up on my post about mysteries because I've recently heard or read reviews of some mysteries which I thought I'd like to check out. I wanted to share these here in case you've read them and can recommend or maybe it's something you want to check out as well.
The Girl from Blind River by Gale Massey. Everyone says the Elders family are nothing but cheats, thieves, and convicts—a fact nineteen-year old Jamie Elders has been trying desperately to escape.
Suicide Club by Rachel Heng. Lea Kirino is a "Lifer," which means that a roll of the genetic dice has given her the potential to live forever—if she does everything right.
The Butterfly Conspiracy by Vivian Conroy. In late Victorian times, when new inventions cause both excitement and terror, a mysterious death at a zoological lecture brings together two unlikely allies in a quest through London's upper crust and underbelly to unravel the ingenious murder method and killer behind it.
Leave No Trace by Mindy Mejia. There is a place in Minnesota with hundreds of miles of glacial lakes and untouched forests called the Boundary Waters. Ten years ago a man and his son trekked into this wilderness and never returned.
Murder at Archly Manor by Sara Rosett. London, 1923. Olive Belgrave needs a job. Despite her aristocratic upbringing, she's penniless. Determined to support herself, she jumps at an unconventional job—looking into the background of her cousin's fiancé, Alfred.
Let me know if you've read any of these and if you recommend them. Now, I'm thinking I need to go back to my book stacks and see what else I have hiding there!