I was looking over my list of books read this year and so far I've only read one mystery book. That just seems so unusual for me. I don't think I'm in a slump when it comes to mystery books but I have managed to pick up a few that weren't working for me at the time.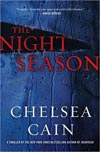 So last night, determined to find a good mystery/thriller I picked up The Night Season by Chelsea Cain. I know some of you have recommended her books to me but I just hadn't had the chance to pick one up. Anyway, this is exactly the kind of thriller I was in the mood for. I even stayed up a bit late reading it last night.
This is the fourth book featuring Portland detective Archie Sheridan. I know you must be saying fourth novel? But don't you like starting from the beginning? Yes, I do prefer to start at the beginning of a series but when I started reading this one at first I thought it was a standalone. Then I got totally sucked into the storyline so I had to keep on reading.
As I'm reading along in this book there are references to Archie's previous cases and I'm tempted to read those to see exactly what happened but I admit I typically find it hard to go back to the beginning of a series once I start mid-way. Does that happen to you?
Alright I want to get back to my book. I want to know though if you've read some good thrillers lately. I think I need to add more to my list.