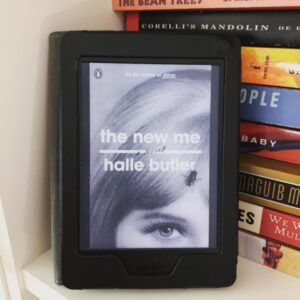 I took today off from work today to get a few things done around the house and mainly just to relax. Work has been very busy for me all year and so it's nice to take advantage of a four day weekend. I started off my day with a breakfast smoothie and reading in bed.
I'm still reading The Painted Bridge by Wendy Wallace and am about half way through it. One character that has stood out is the young girl who lives in the asylum but she's not an inmate but rather the daughter of the man who runs it. She's a teenager who is desperate for adventure and just like the other women in the "rest home", she's anxious to leave its confines.
Last night I started a book that reminded me very much of Eileen by Ottesa Moshfegh. The book is The New Me by Halle Butler. I loved Eileen which had such a memorable narrator is so I have high hopes for this one.
Of course I also have some crafty projects to work on this weekend. I'll have to tell you more about that soon but I'm working on a swap and Cards for Kindness. So, I think I will be busy, plus there may be cake this weekend.
Anyway, I hope you all have a wonderful weekend and I look forward to catching up with you.