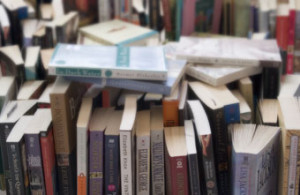 Hello Friends – I hope you've been having a great week. This week has been long and there were some stressful days but today the sun was shining, it's almost the weekend and you can't go wrong with that.
So today I have some links to share that I hope you'll enjoy:
Did you see that the Seattle Mystery Bookshop needs a bit of help to keep the doors open? I haven't visited this bookshop but I hope to one day travel to Seattle and of course would love to visit this place.
Speaking of travel, we know there are tons of guidebooks but for bookworms we also like to see the literary side of the cities we visit. Well, here's where Eat This Poem comes in to help you with your itineraries. I love that my city, Austin, made it on the guide.
For those of you who love crime books/thrillers and would like to explore French authors, check out Le French Book. I have The Collector on my kindle and excited to discover this new series.
Now if you are more into art books then you have to check out Abrams Books. They carry books from art, photography, interior and garden design to performing arts, fashion, and popular culture. I don't think they have a physical bookstore but if they did, that would be another on my bookstores to visit one day list.
Finally because we all like a great book bargain have you seen eReaderIQ? You can find deals on ebooks, track price drops, and you can even track when books become available for your Kindle. Neat.
I hope you all have a wonderful weekend. We are supposed to have warm temperatures, sunshine and that means it's a good time for an afternoon gathering with friends, maybe a trail walk and of course books.