The weekend is almost here and what are you doing? We are excited about the Fall Plant Sale at the Wildflower Center. Unfortunately we lost a couple of plants this summer so we are going to look for some replacements. We've had success with our Rock Roses, Lanceleaf coreopsis, Nodding Penstemons and our succulents. I can't wait to see what we find.
Other than that, I have lots of stuff to read. I'm sure you do too but just in case you need some inspiration I hope you'll find some through these links: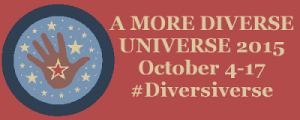 A More Diverse Universe. Once again Aarti is hosting this great challenge that reminds us that reading diversely is important because we all live in a global world. This is a quick reading challenge but there is still time to participate. I'm reading The Opposite House by Helen Oyeyemi.
A new edition of Shiny New Books is out with reviews on fiction, non-fiction and even reprints! I have my TBR list and pencil ready.
It's that time of the year for scary stories so check out this list of 10 Most Terrifying Ghost Stories and Paranormal Novels. How many of those have you read? I've only read one – The Haunting of Hill House.
The Nobel Prize for Literature was awarded today to Svetlana Alexievich. Have you read anything by her? I have not but am interested in her book Voices from Chernobyl which is the first book to present personal accounts of the tragedy. This must be fascinating.
For those of you who love poetry, Mary Oliver has a new collection, Felicity. Enter the giveaway at Read it Forward for a chance to win a copy.
Hope you have a wonderful weekend and more bookish talk soon.