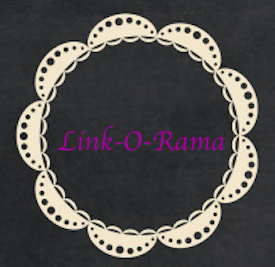 Where has the week gone? I wanted to do a couple of book reviews, talk about current reads and now it's almost the weekend. Unfortunately I got caught up with some other projects earlier in the week and then I've had a couple of nights of insomnia so needless to say I haven't felt like doing much these past couple of days. So, I thought today's a good day for a linky kind of post. Hope you find some cool stuff to read:
I found this article on a book of wallpaper samples interesting given that I use some wallpapers in some of my journals. I promise my wallpapers aren't that old so I'm pretty sure arsenic is not an ingredient!
Valentine's day may be already a memory but ever wonder about Valentine ephemera? I love using old papers in some of my projects so enjoyed reading this. Aren't the images neat? Some are kind of freaky.
In case you didn't know, there are some fascinating facts about the Thesaurus.
If you were thinking what feminists books should I read this month? Here is a list of 17 books not to miss. I have noted several titles that's for sure.
Finally, thanks to the Persephone Readathon earlier this month, I heard about Furrowed Middlebrow. This imprint will rediscover and reissue entertaining and important works by lesser-known British women novelists and memoirists from years 1910-1960.
Hope you all have a wonderful weekend and I'll be back with more book talk soon!