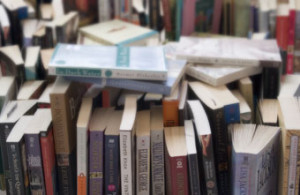 Today I had to wait for more than an hour to get a tire fixed and you know what, when you have a book with you it's really not bad. Sure, I would much rather have been at a cafe or home reading but at least I knew I had some uninterrupted time to catch up on my reading. Gotta love those moments especially when I feel like I'm behind on everything.
So this weekend I hope to catch up on my blog reading, organizing around the house and I think it's time to finally take the bike out to the veloway. It's been a while so wish me luck!
Anyway so for today I just have some bookish links for you. I hope you enjoy these as much as I have:
You can't do this with a Kindle but you can with an old book you want to repurpose! Aren't the paper cups beautiful?
Wouldn't you like to see Recovering the Classics in your library? They have some great stuff in their shop so take a look.
Speaking of shopping, isn't this t-shirt phenomenal. Poetry month is coming soon so it would be just the thing to wear to a poetry reading I think.
In case you don't already have a list of writers to watch for this year, BookPage has the 9 Women to Watch in 2016. Yup, I'm adding more books to my list.
Have a great weekend everyone and more bookish stuff soon!