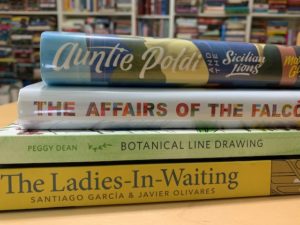 I went to the library recently to pick up a book for my upcoming book group meeting and as I hadn't checked out any books in a while I thought it was time to take a peek. So here's what I found on this visit:
Auntie Poldi and the Sicilian Lions by Mario Giordano. On her sixtieth birthday Aunti Poldi retires to Sicily to enjoy life with rest and good wine but soon she's embroiled in an investigation in the case of a missing handyman. Love the cover, the setting, and it sounds like an all around fun read. This is for my mystery book group so I can't wait to get started on it.
The Affairs of the Falcons by Melissa Rivero. The pursuit of one woman's new American dream is a story about the contemporary immigrant experience. I think it's so important to try to put yourself in other people's shoes and think about what it means to emigrate. It's not easy when you are documented and I cannot even imagine what it's like when you are forced to flee your country and loved ones. Especially right now we should be looking at ways to help and understand rather than to condemn.
Botanical Line Drawing by Peggy Dean. I don't really have time for another hobby but I know I probably have mentioned many times how I wish I could draw. This book makes the drawings seem very simple and easy so I hope I can at least try a few of the exercises.
The Ladies-In-Waiting by Santiago Garcia & Javier Olivares. A graphic novel which takes the famed masterwork, Las Meninas by Diego Velazquez, and weaves a story of how it came about. I did get to see this painting in the Prado when  I visited Madrid many years ago and it was amazing to see it in person.
Alright I probably will start with the Auntie Poldi book first because of my upcoming book group meeting but which one would you choose?