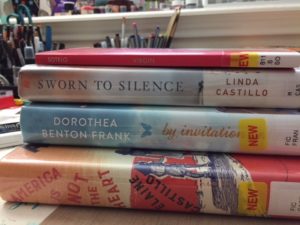 I am trying not to borrow too many books from the library but I recently had to pick up a book for an upcoming book group meeting and ended up with a few others that sounded good and just what I need to get me back into a my reading groove.
The first book I checked out is Sworn to Silence by Linda Castillo. This is the one for my August book group meeting. I have read one of the books in the series, actually I listened to it on audio, and I liked it quite a bit so I was excited about this one. I have started it and so far I'm really enjoying it.
I picked up Virgin a poetry book by a new to me poet, Analicia Sotelo. I haven't picked up a poetry book in a couple of months.
Dorothea Beaton Frank is a bestselling author and I know quite popular but I haven't read any of her books. By Invitation Only sounds like a good beach read type book and could be just what I need.
The last book is America is Not the Heart by Elaine Castillo. I've seen this book mentioned quite a bit around blogland and immigrant stories are always of interest to me so I had to add this to my bag.
What do you think of my borrowed books? Have you read any of these?
I hope you all have a fantastic weekend. I'm so excited because one of my best friends is going to be in town and I'll get to see her. Yay. More book talk soon.