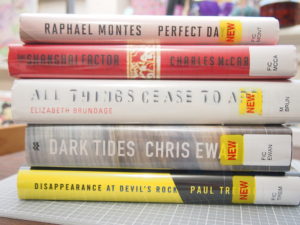 I had a good look through the new shelves at the library on my recent visit and was happy to find quite a few books that caught my attention. Of course there is no guarantee that I will read these in time before I have to return them. Anyway, here we go:
All Things Cease to Appear by Elizabeth Brundage. Late one winter afternoon in upstate New York, George Clare comes home to find his wife killed and their three-year-old daughter alone–for how many hours?–in her room across the hall.
Dark Tides by Chris Ewan. When Claire Cooper was eight years old her mother mysteriously vanished during Hop-tu-naa, Halloween on the Isle of Man. At fourteen, Claire is still struggling to come to terms with her disappearance when she's befriended by a group of five teenagers who mark every Halloween by performing dares.
Disappearance at Devil's Rock by Paul Tremblay. A family is shaken to its core after the mysterious disappearance of a teenage boy in this eerie tale, a blend of literary fiction, psychological suspense, and supernatural horror.
Perfect Days by Raphael Montes. A twisted young medical student kidnaps the girl of his dreams and embarks on a dark and delirious road trip across Brazil in the English-language debut of one of Brazil's most celebrated young crime writers.
The Shanghai Factor by Charles McCarry. An American spy in China. Name: Unknown. Status: Sleeper. Just when he thought life had settled into a pleasant routine, he is called back to Washington. His assignment: go undercover as the American ambassador for a massive Chinese multinational conglomerate, and learn the secrets of their powerful CEO.
Lots of suspense and thrill rides! I'll let you know what I get through. Have you read any of these and what did you think?