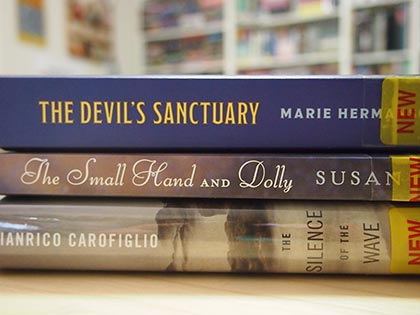 I recently went to return some library books which of course also means check out some books right? You know sometimes I know I won't get to these books before they are due (even after I renew them a couple of times) but I like checking them out a bit more at home and often they'll end up on my TBR list. So here's a quick look at what I got:
The Devil's Sanctuary by Marie Hermanson. A Swedish thriller about twin brothers who trade places only one ends up trapped in a psychiatric facility. Definitely no sanctuary this place!
Small Hand and Dolly by Susan Hill. Two haunting stories featuring old Edwardian mansions and a beautiful doll. Susan Hill wrote one of my favorite ghost stories, The Woman in Black, so I can't wait to read this book.
The Silence of the Wave by Gianrico Carofiglio. Another novel about psychiatrists but this one is about a former undercover agent coming to terms with memories of his father and his work.
Have you read any of these? What did you think?