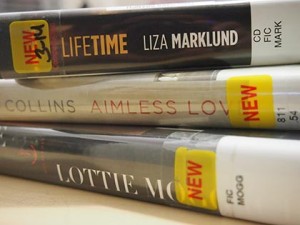 I made a quick stop at the library this weekend to drop off some books and pick up some holds. I could easily have scooped up more books but just trying to show some restraint.
Anyway, here's what I picked up:
Aimless Love by Billy Collins. This collection features poems from some of his previous books and more than 200 new poems. I love his poetry so I am sure I'll enjoy this. Actually this is one I probably should buy to add to my collection.
Kiss Me First by Lottie Moggach. From the description: A chilling and intense first novel, the story of a solitary young woman drawn into an online world run by a charismatic web guru who entices her into impersonating a glamorous but desperate woman. Sounds like a good thriller.
Lifetime by Liza Marklund. I've not had a chance to read any books by this Scandinavian author so when I found this audiobook I thought why not. I believe this is part of a series but oddly enough I'm not adamant about going through the books in order when it comes to audiobooks.
I'm waiting on a couple of more holds but I wouldn't mind if they take a while longer before they are ready. I need to work through some of these first. Let me know if you've read some of these and what you thought.