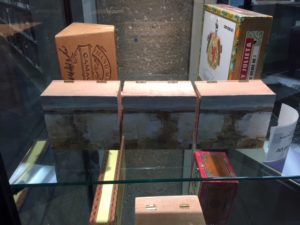 One of the best things about visiting the library is finding something you weren't even looking for right? The library closest to me is not too large but every once in a while they surprise me with a new display/installation and on my latest visit this was no exception. They had a small display of local artist Daniel Arredondo's impressionist landscapes on cigar boxes. I just love how the library is a window to so many other things. It's great isn't it?
Anyway, I did pick up a few books on my visit. One was a hold for my upcoming book group meet up but the others were book I thought would be good reads.
Murder on the Quai by Cara Black. This is the book for my mystery group. I read one of in this series before and I didn't enjoy it too much but I'm open to checking this one out and seeing if I change my mind. This is the 15th book in the series and of course it is set in Paris so at least I'm sure I'll enjoy the setting.
The Awakening of Miss Prim by Natalia Sanmartin Fenollera. In this #1 international bestseller, a young woman leaves everything behind to work as a librarian in a remote French village, where she finds her outlook on life and love challenged in every way. This sounds delightful doesn't it?
The Beautiful Mystery by Louise Penny. It's been years since I caught up with Inspector Gamache and his team so I'm looking forward to this one. This is the eighth book in the series and while the last couple of books weren't my favorite I do like Gamache a lot and hope that this book will reel me back into the series.
Where the Dead Sit Talking by Brandon Hobson. Set in rural Oklahoma during the late 1980s, this is a startling, authentically voiced and lyrically written Native American coming-of-age story. I am really looking forward to this one.
Let me know if you've read any of these and what you think. Also, have you been to your library recently? What did you get?