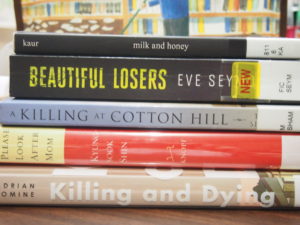 I hope you all had a great weekend. I meant to post yesterday but we started watching Wallander Season 3 (the Swedish version) and I must have forgotten how long the episodes are. By the time we were done with one it was late and I had to get ready for bed.
So today I'll tell you about the books I picked up during my weekend library visit. I wish I could start at least one of these now but I'm in the middle of several good books so I think I'm going to at least try and finish one of those before I jump into these.
Beautiful Losers by E.V. Seymour. A stalking victim is convinced that she's the only one who can catch the perp even when the police wonder if she's doing the stalking.
Killing and Dying by Adrian Tomine. This graphic novel has been on my radar since I got to hear the author at the Texas Book Festival last year. I've read his previous book, Shortcomings, so I'm looking forward to this one.
A Killing at Cotton Hill by Terry Shames. A mystery set in Texas. This one is for my mystery book group discussion in September.
Milk and Honey by Rupi Kaur. A poetry collection which has garnered a lot of attention. Here's a recent article on Kaur.
Please Look After Mom by Skyon-Sook Sin. This novel follows a family who tries to find the mother who went missing from Seoul Station. I've heard great things about this book.
Let me know if you've read any of these. For now I'm going back to one of my books that has been a gripping read, Perfect Days by Raphael Montes. Talk about a creepy read. Hmm, maybe I should save this for earlier in the day.