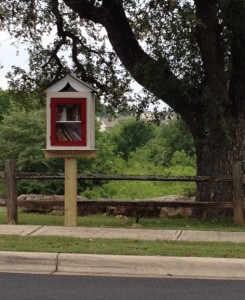 Look, our Little Free Library went up in our neighborhood! I haven't walked over to it to take a proper look but saw it the other day when I drove past it. I thought what perfect timing as it's National Library Week. And, in order to do a bit of celebrating of libraries, I went to the library this evening to pick up some holds and do a bit of browsing. I only came out with three books but I'm excited about these. Here's what was I got:
While the City Slept by Eli Sanders. A Pulitzer Prize-winning reporter's gripping account of one young man's path to murder–and a wake-up call for mental health care in America. I tend not to read true crime novels but I read a review of this one and it just sounded like an important book to read.
Bright Dead Things by Ada Limón. From the publisher: A book of bravado and introspection, of 21st century feminist swagger and harrowing terror and loss, this fourth collection considers how we build our identities out of place and human contact. I'm trying to discover new poets and this collection seemed like a good one to check out.
The Shape of Desire by Sharon Shinn. I picked this one up because I thought it would be a good one for the Once Upon A Time reading challenge. It's a fantasy novel but with some romance and mystery so I think I could really enjoy it.
I would love to start one of these books now but I have five books I'm currently reading and don't want to add another one yet. Let me know though if you've read any of these and what you thought. What have you checked out from the library?