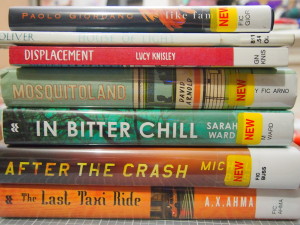 I've been checking out books a lot of books from the library this year. Unfortunately I've had to return some without reading because I am not reading fast enough but aren't those the woes of bookworms?
Here are the books I've found on various trips and those I've put on hold and have gone to pick up:
Like Family by Paolo Giordano. I've read many rave reviews of this one and am looking forward to it.
House of Light by Mary Oliver. I was actually looking for her latest collection but I think it's on order and I was really in the mood for a poetry book so I chose this one. Plus, this one will count towards the Poetry reading challenge!
Displacement by Lucy Knisley. I've enjoyed several of Lucy Knisley's other graphic novels and can't wait to dive into this one.
Mosquitoland by David Arnold. I heard about this one from a publisher newsletter I believe. It's a YA novel about teen on a cross-country journey.
In Bitter Chill by Sarah Ward. A case of an unresolved kidnapping re-opened 30 years later.
After the Crash by Michel Bussi. A French crime thriller about a sole survivor of a 1980 airline crash.
The Last Taxi Ride by A.X. Ahmad. This is the second book featuring Ranjit Singh and this is the February selection for my mystery book group. I read the first book late last year and thought it was pretty good so I'm looking forward to this one.
Next time I go to the library I think I'm going to need a bigger book bag to take all of these back. I'm thinking I may need to go on a library ban to read more from my shelves but oh there are just so many tempting titles. I have two more books on hold and those aren't fiction and/or mysteries but craft books. Of course when I go pick those up I'm sure I'll have a look around to see what else I can find! So what have you borrowed lately?