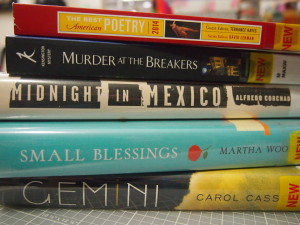 I went to the library to pick up a book on hold and I just couldn't resist looking around for a bit and of course ended up walking away with more books than I should have. Here's the latest library haul:
Horrostör by Grady Hendrix. A tale of strange happenings set in an Ikea-like furniture store. I have to say that just looking at the book, the artwork and design is a hoot. It is like looking at an Ikea catalog. I couldn't resist grabbing this book which promises to be a bit scary and funny (oops, forgot to include it in the picture).
The Best American Poetry 2014. I always enjoy these yearly collections so I was happing to find this one. It includes poems from some favorites such as Sharon Olds, Mark Doty and Rita Dove. I look forward to discovering some new poems and poets.
Gemini by Carol Cassella. I've enjoyed this authors previous books so I couldn't pass up this one.
Midnight in Mexico by Alfredo Corchado. Mexico is one of the most dangerous countries for journalists with more than 200 being killed or disappeared since 2000. This is one reporter's journey to search for justice and hope.
Murder at the Breakers by Alyssa Maxwell. This is a historical mystery set in Newport, Rhode Island in 1895. The main character is a society reporter but little did she expect that she would be reporting a murder.
Small Blessings by Martha Woodroof. An English professor in a sleepy college town, who spends the days browsing the Shakespeare shelves at the campus bookstore. Of course I want to read this.
I wish I could start one of these books this weekend but what I'll probably be doing is reading/skimming through Raven Black by Ann Cleeves to prepare for my mystery book group meeting next Tuesday. I read it back in 2007 so it's been a while since I've read it and need to refresh my memory of it.
Anyway, I hope you all have a wonderful weekend. I look forward to catching up with you and my reading! Oh and let me know if you've read some of the books from my haul and what you thought.