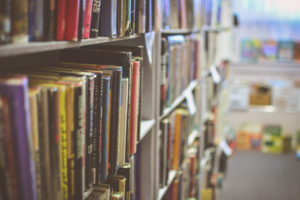 I had a funny dream about the library the other night. I dreamt I walked into the library to meet some friends and after saying our hellos and getting our table, I was off to check out the new books.
As I made my way to the shelves I realized they had moved the new books to a whole new section because apparently they had received so many new books that they needed more space. More books to explore – joy!
I woke up pretty much after that but you know what I think? This is a sign that I better get to my library to see what new books have arrived!
It has been a while since I've stopped in the library and I'm not sure if I'll make it this weekend as I have family in town but I can put some items on hold and hopefully pick them up next week.
So what do you have planned for this weekend? I feel like I haven't had a lot of time to devote to my reading this week so hopefully I can catch up with some of my reading. Of course to all of you moms out there – have a lovely Mother's Day. I get the feeling my mom and I will be watching Sense & Sensibility again, which is ok as that never gets old.
Happy Weekend!